28-07-2017 | Empirical Research | Uitgave 10/2017 Open Access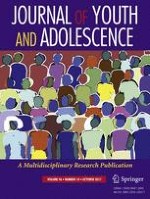 Can Locus of Control Compensate for Socioeconomic Adversity in the Transition from School to Work?
Tijdschrift:
Auteurs:

Terry Ng-Knight, Ingrid Schoon
Abstract
Internal locus of control is associated with academic success and indicators of wellbeing in youth. There is however less understanding regarding the role of locus of control in shaping the transition from school to work beyond the more widely studied predictors of socioeconomic background and academic attainment. Guided by a socio-ecological model of agency, the current study examines to which extent internal locus of control, understood as an indicator of individual agency, can compensate for a lack of socioeconomic resources by moderating the association between parental disadvantage and difficulties in the transition from school to work. We draw on data collected from a longitudinal nationally representative cohort of 15,770 English youth (48% female) born in 1989/90, following their lives from age 14 to 20. The results suggest that the influence of agency is limited to situations where socioeconomic risk is not overpowering. While internal locus of control may help to compensate for background disadvantage regarding avoidance of economic inactivity and unemployment to some extent, it does not provide protection against long-term inactivity, i.e. more than 6 months spent not in education, employment or training.