01-02-2013 | Original Article | Uitgave 1/2013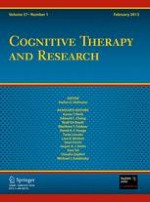 Behavioral Approach System (BAS)-Relevant Cognitive Styles in Individuals with High Versus Moderate BAS Sensitivity: A Behavioral High-Risk Design
Tijdschrift:
Auteurs:

Jonathan P. Stange, Benjamin G. Shapero, Shari Jager-Hyman, David A. Grant, Lyn Y. Abramson, Lauren B. Alloy
Belangrijke opmerkingen
Parts of this research have been presented at the 2011 convention of the Association for Psychological Science, Washington, DC, and at the 9th International Conference on Bipolar Disorder, Pittsburgh, PA.
Abstract
This study used a behavioral high-risk design to evaluate cognitive styles relevant to the Behavioral Approach System (BAS) among individuals at high (n = 171) versus low (n = 119) risk of first onset of bipolar disorder based on BAS sensitivity, a known risk factor for bipolar disorder. Cognitive styles in high-BAS participants paralleled those implicated in bipolar disorder. Linear regressions indicated that individuals with high BAS sensitivity exhibited greater levels of goal striving, positive overgeneralization, rumination on positive affect, depressive brooding, perfectionism, and hypomanic personality. Furthermore, of the cognitive styles, emotion-focused rumination on positive affect mediated the association between BAS sensitivity and current levels of hypomanic symptoms. These results provide evidence that individuals at risk for the development of bipolar disorder have higher levels of BAS-relevant cognitive styles and hypomanic personality than do individuals with lower risk, indicating that these styles are not simply markers of prior (hypo)manic episodes.