01-07-2015 | Original Paper | Uitgave 7/2015 Open Access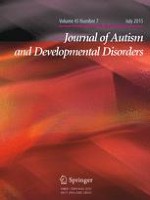 Autism Diagnostic Interview-Revised (ADI-R) Algorithms for Toddlers and Young Preschoolers: Application in a Non-US Sample of 1,104 Children
Tijdschrift:
Auteurs:

Annelies de Bildt, Sjoerd Sytema, Eric Zander, Sven Bölte, Harald Sturm, Nurit Yirmiya, Maya Yaari, Tony Charman, Erica Salomone, Ann LeCouteur, Jonathan Green, Ricardo Canal Bedia, Patricia García Primo, Emma van Daalen, Maretha V. de Jonge, Emilía Guðmundsdóttir, Sigurrós Jóhannsdóttir, Marija Raleva, Meri Boskovska, Bernadette Rogé, Sophie Baduel, Irma Moilanen, Anneli Yliherva, Jan Buitelaar, Iris J. Oosterling
Abstract
The current study aimed to investigate the Autism Diagnostic Interview-Revised (ADI-R) algorithms for toddlers and young preschoolers (Kim and Lord, J Autism Dev Disord 42(1):82–93,
2012
) in a non-US sample from ten sites in nine countries (n = 1,104). The construct validity indicated a good fit of the algorithms. The diagnostic validity was lower, with satisfactorily high specificities but moderate sensitivities. Young children with clinical ASD and lower language ability were largely in the mild-to-moderate or moderate-to-severe concern ranges of the ADI-R, nearly half of the older and phrase speech ASD-group fell into the little-to-no concern range. Although broadly the findings support the toddler algorithms, further work is required to understand why they might have different properties in different samples to further inform research and clinical use.