21-09-2017 | Original Article | Uitgave 1/2018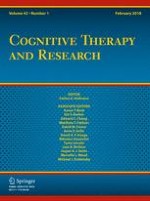 Affect Intensity Moderates the Association of Emotional Clarity with Emotion Regulation and Depressive Symptoms in Unselected and Treatment-Seeking Samples
Tijdschrift:
Auteurs:

Vera Vine, Brett Marroquín
Abstract
Depression is associated with subjective difficulties identifying one's emotions, known as low emotional clarity, but the mediators and moderators of this relationship are not well understood. We hypothesized that the role of emotional clarity in emotion regulation and, in turn, depression depends on individual differences in negative affect intensity. In Study 1, conducted in an unselected sample
(N
 = 119), low emotional clarity more strongly predicted depression symptoms among individuals higher in affect intensity. In Study 2, conducted in a clinically diagnosed, treatment-seeking sample (
N
 = 245), we examined whether affect intensity moderated an indirect path of clarity through emotion regulation strategy use that has emerged in previous work. Except when affect intensity was very low, emotional clarity predicted reappraisal, and except when affect intensity was very high, emotional clarity predicted non-acceptance and experiential avoidance. By contrast, rumination mediated associations of emotional clarity with depressive symptoms regardless of affect intensity. Findings support a process model of low emotional clarity in depression that integrates (1) emotion regulatory mediators and (2) moderation by negative affect intensity. Trait differences in affect intensity may determine whether and how emotional clarity and regulation processes factor into mood psychopathology.