09-09-2017 | Original Article | Uitgave 1/2018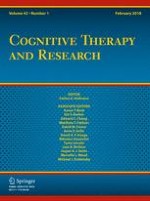 Moderators of Symptomatic Outcome in Metacognitive Training for Psychosis (MCT). Who Benefits and Who Does Not?
Tijdschrift:
Auteurs:

Steffen Moritz, Mahesh Menon, Devon Andersen, Todd S. Woodward, Jürgen Gallinat
Abstract
Metacognitive training (MCT) for psychosis is a group intervention targeted at reducing positive symptoms in schizophrenia through an improvement of cognitive biases in these patients. Despite evidence for its feasibility and efficacy, the recommendations for including or excluding patients from MCT have so far been largely based on anecdotal clinical wisdom rather than empirical evidence. Predictors and moderators of outcome are presently unknown. We reanalyzed data from a large randomized controlled trial, for which 150 patients were randomly assigned to either MCT or CogPack® (neurocognitive training) and followed up for up to 3 years. We explored which demographic variables, baseline symptoms, and cognitive biases would predict overall outcome and specific treatment benefits in MCT. Low self-esteem and social anxiety at baseline as well as positive appraisal of the intervention were consistently associated with improved outcome in MCT relative to CogPack®. Among other variables, improvement of cognitive biases and selective attention during the intervention period as well as number of sessions attended were general predictors of positive outcome, irrespective of the type of intervention. Patients with cognitive biases and psychological strain (e.g., low self-esteem and quality of life) paired with social problems may represent an ideal target group for MCT. The present findings await replication in independent samples and may not generalise to other forms of metacognitive training (e.g., MCT for depression) or individualized metacognitive intervention for psychosis (MCT+).