2016 | OriginalPaper | Hoofdstuk
6 Stemmingsstoornissen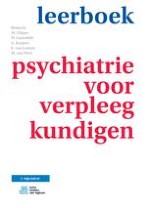 eerste hoofdstuk lezen
Auteurs: BHA, MSM Mw. M. Clijsen, Drs. W. Garenfeld, Drs. C.G.A.M. Jacobs
Uitgeverij: Bohn Stafleu van Loghum
Samenvatting
Conform de DSM-5 worden stemmingsstoornissen geclassificeerd in acht categorieën van depressieve stemmingsstoornissen en in zeven categorieën van bipolaire stemmingsstoornissen (paragraaf 6.1).

De uitdrukking 'met melancholische kenmerken' (in oudere classificatie: 'met vitale kenmerken') verwijst naar een ernstige depressieve stemming, met verlies van plezier, dagschommeling, geremdheid of agitatie, verminderde eetlust en/of gewichtsverlies, en buitensporige of onterechte schuldgevoelens (box 6.1).

De uitdrukking 'met atypische kenmerken' verwijst ernaar dat de stemming tijdelijk opklaart naar aanleiding van (potentieel) positieve gebeurtenissen en er sprake is van ten minste twee van de volgende kenmerken: toegenomen eetlust en/of gewichtstoename, overmatig slapen, sterke vermoeidheid, langdurige overgevoeligheid voor afwijzing door anderen (box 6.1).

De disruptieve stemmingsdisregulatiestoornis kan worden opgevat als een kinderpsychiatrisch syndroom met ernstige recidiverende driftbuien die zich verbaal en/of in het gedrag manifesteren en die wat intensiteit of duur betreft in grove mate disproportioneel zijn ten opzichte van de situatie of aanleiding (paragraaf 6.2).

De behandelopties bij de disruptieve stemmingsdisregulatiestoornis zijn slechts zeer beperkt onderzocht. De American Academy of Child and Adolescent Psychology wijst op psycho-educatie, betrokkenheid van ouders en school, en eventuele inzet van psychofarmaca (met name risperidon) (paragraaf 6.2).

Volgens de DSM-5-classificatie kan worden gesproken van een depressieve stemming indien er in afwijking tot eerder functioneren, gedurende ten minste veertien aaneengesloten dagen sprake is van minstens vijf depressieve symptomen, waaronder een sombere stemming ofwel verlies van interesse of plezier (paragraaf 6.3 en box 6.4).

In Nederland lijdt naar schatting minstens 5% van de bevolking tussen 18 en 65 jaar (550.300 mensen) aan een depressieve stoornis (paragraaf 6.3.1).

Binnen de biologische verklaring worden depressieve stemmingsklachten onder meer in verband gebracht met een disbalans van de neurotransmitters serotonine, noradrenaline en dopamine, en met erfelijke factoren en neurodegeneratie (paragraaf 6.3.2).

Vanuit de psychosociale verklaring kunnen depressieve stemmingsklachten in verband worden gebracht met

life events

(vooral verlieservaringen). Hiernaast stelt de leertheoretische verklaring dat depressiviteit te maken heeft met 'aangeleerde hulpeloosheid' en stelt de cognitieve verklaring dat bij depressiviteit negatieve denkschema's meespelen (paragraaf 6.3.2).

Bij de behandeling van een depressieve stoornis kunnen diverse therapieën worden ingezet:

cognitieve therapie/cognitieve gedragstherapie;

farmacotherapie;

lichttherapie;

slaapdeprivatie;

elektroconvulsietherapie (ECT);

psychosociale interventies;

interpersoonlijke therapie;

mindfulness (paragraaf 6.3.4).

Op mindfulness gebaseerde therapieën blijken met name effectief met betrekking tot de preventie van een recidief depressieve stoornis (paragraaf 6.3.4).

Serotoninegerelateerde bijwerkingen betreffen vooral gejaagdheid, angst, agitatie en overmatig transpireren. Een serotoninesyndroom is evenwel een potentieel fatale toestand (paragraaf 6.3.4).

Uitgangspunt is dat iedereen wilsbekwaam is tot het tegendeel blijkt. Iemand is op een bepaald punt verminderd wilsbekwaam indien hij de consequenties van wel of niet (be)handelen met betrekking tot dat punt niet overziet (paragraaf 6.3.6).

Volgens de CASE-benadering voor de inschatting van suïcidaliteit wordt de patiënt eerst gevraagd naar de actuele gedachten en gebeurtenissen, dan naar de voorgeschiedenis van de afgelopen acht weken en de ruimere voorgeschiedenis van eerdere episoden van suïcidaal gedrag. Ten slotte wordt gevraagd naar de toekomstvisie, toekomstplannen en zaken die kunnen bijdragen aan een beter toekomstperspectief (paragraaf 6.3.7).

Bij een persisterende depressieve stoornis (dysthymie) is er sprake van een sombere stemming, het grootste deel van de dag, meer dagen wel dan niet, gedurende ten minste twee jaar (box 6.13).

De prevalentie van een persisterende depressieve stoornis (dysthymie) is naar schatting 3-6% onder de algemene bevolking (paragraaf 6.4.1).

Met betrekking tot de etiologie van een persisterende depressieve stoornis (dysthymie) wordt veronderstelt dat naast een gestoorde persoonlijkheidsontwikkeling, dezelfde factoren meespelen als bij het ontstaan van een depressieve stoornis (paragraaf 6.4.2).

Voor de behandeling van dysthyme stemmingsklachten kunnen dezelfde therapievormen worden toegepast als voor de behandeling van de depressieve stoornis (paragraaf 6.4.4).

De premenstruele stemmingsstoornis kan wellicht worden opgevat als een ernstige vorm van het premenstrueel syndroom (PMS) (paragraaf 6.5).

Wat betreft de behandeling van een premenstruele stemmingsstoornis zijn hormoontherapie en de toepassing van antidepressiva het best onderzocht (paragraaf 6.5.2).

Volgens de DSM-5 kan worden gesproken van een manie indien er sprake is van minstens een week lang een abnormaal en persisterend verhoogde, expansieve of prikkelbare stemming, een abnormaal en persisterend verhoogde doelgerichte activiteit of energie, en minstens drie manische symptomen of zodanig ernstige symptomen dat ze aanleiding vormen tot een klinische behandeling (box 6.15).

In de algemene bevolking is de kans om gedurende het gehele leven symptomen te ontwikkelen die voldoen aan de criteria voor een bipolaire stoornis, circa 1 à 2% (paragraaf 6.6.6).

Bij het vervolgen van een bipolaire stoornis kan goed gebruik worden gemaakt van de Life Chart Methode; dit is een formulier dat de patiënt zelf invult, voor het scoren van zowel depressieve als manische symptomen (paragraaf 6.6.8).

Medicatie van eerste keus bij de behandeling van een bipolaire stoornis zijn de zogenoemde 'stemmingsstabilisatoren'. Dit zijn lithiumzouten en bepaalde medicijnen die ook gebruikt worden bij de behandeling van epilepsie (paragraaf 6.6.9).

Bij de behandeling van bipolaire stemmingsstoornissen kunnen naast farmacotherapie onder meer psycho-educatie, cognitieve gedragstherapie, interpersoonlijke therapie,

family focused treatment

en elektroconvulsietherapie worden ingezet (paragraaf 6.6.9).

Een cyclothyme stoornis kan worden opgevat als een milde variant van de bipolaire-I-stoornis. Hierbij wisselen episoden met lichte depressieve stemmingsklachten af met licht manische stemmingsontregelingen (paragraaf 6.7).

De behandeling van een cyclothyme stoornis omvat vooral farmacotherapie die is gericht op het bestrijden van de hypomane symptomen. Ten aanzien van antidepressiva wordt terughoudendheid geadviseerd vanwege het risico op uitlokken van een hypomanie (paragraaf 6.7.4).