01-09-2014 | Uitgave 7/2014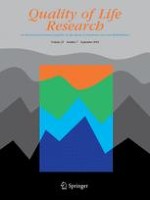 "We both just trusted and leaned on the Lord": a qualitative study of religiousness and spirituality among African American breast cancer survivors and their caregivers
Tijdschrift:
Auteurs:

Katherine Regan Sterba, Jessica L. Burris, Sue P. Heiney, Megan Baker Ruppel, Marvella E. Ford, Jane Zapka
Abstract
Purpose
Most breast cancer (BC) survivorship research focuses on the general population of survivors. Scant research investigates the potentially unique experiences of minorities, especially during and after the difficult transition from primary treatment to post-treatment. This qualitative study explored African American BC survivors' and caregivers' quality-of-life in the post-treatment period with a focus on social and spiritual well-being.
Methods
Participants included a convenience sample of African American women with stage I–III BC (
N
= 23) who completed treatment 6–24 months before enrollment. Primary caregivers (
N
= 22) included friends, spouses and other family members (21 complete dyads). Participants completed separate semi-structured telephone interviews. Template analysis was used to evaluate themes related to religiousness and spirituality, both across and within dyads.
Results
After treatment, religiousness and spirituality played a major role in both survivors' and caregivers' lives by: (1) providing global guidance, (2) guiding illness management efforts and (3) facilitating recovery. Participants described a spiritual connectedness with God and others in their social networks. Dyad members shared the goal of keeping a positive attitude and described positive growth from cancer. Few future concerns were expressed due to the belief that survivors were healed and "done" with cancer. Beyond practical and emotional support, provision of spiritual assistance was common.
Conclusions
Results highlight the principal, positive role of religiousness and spirituality for African American BC survivors and caregivers after treatment. Findings emphasize the need to assess the importance of religious and spiritual beliefs and practices, and if appropriate, to provide resources that promote spiritual well-being.