01-09-2014 | Uitgave 7/2014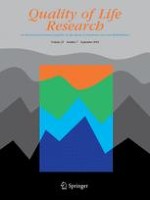 Health-related quality of life in young adults in education, employment, or training: development of the Japanese version of Pediatric Quality of Life Inventory (PedsQL) Generic Core Scales Young Adult Version
Tijdschrift:
Auteurs:

Mei Kaneko, Iori Sato, Takafumi Soejima, Kiyoko Kamibeppu
Belangrijke opmerkingen
Mei Kaneko and Iori Sato have contributed equally to this work.
Abstract
Purpose
The purpose of the study is to develop a Japanese version of the Pediatric Quality of Life Inventory (PedsQL) Generic Core Scales Young Adult Version (PedsQL-YA-J) and determine the feasibility, reliability, and validity of the scales.
Methods
Translation equivalence and content validity were verified using back-translation and cognitive debriefing tests. A total of 428 young adults recruited from one university, two vocational schools, or five companies completed questionnaires. We determined questionnaire feasibility, internal consistency, and test–retest reliability; checked concurrent validity against the Center for Epidemiologic Studies Depression Scale (CES-D); determined convergent and discriminant validity with the Medical Outcome Study 36-item Short Form Health Survey (SF-36); described known-groups validity with regard to subjective symptoms, illness or injury requiring regular medical visits, and depression; and verified factorial validity.
Results
All scales were internally consistent (Cronbach's coefficient alpha = 0.77–0.86); test–retest reliability was acceptable (intraclass correlation coefficient = 0.57–0.69); and all scales were concurrently valid with depression (Pearson's correlation coefficient = 0.43–0.57). The scales convergent and discriminant validity with the SF-36 and CES-D were acceptable. Evaluation of known-groups validity confirmed that the Physical Functioning scale was sensitive for subjective symptoms, the Emotional Functioning scale for depression, and the Work/School Functioning scale for illness or injury requiring regular medical visits. Exploratory factor analysis found a six-factor structure consistent with the assumed structure (cumulative proportion = 57.0 %).
Conclusions
The PedsQL-YA-J is suitable for assessing health-related quality of life in young adults in education, employment, or training, and for clinical trials and epidemiological research.