01-07-2007 | Original paper | Uitgave 5/2007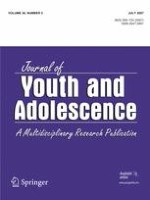 Violent Victimization, Aggression, and Parent-Adolescent Relations: Quality Parenting as a Buffer for Violently Victimized Youth
Tijdschrift:
Auteurs:

Mario J. Aceves, Jeffrey T. Cookston
Belangrijke opmerkingen
M. J. Aceves is a graduate student in the Psychology department at the University of California, Berkeley. His previous research at San Francisco State University has focused on violent victimization experienced by adolescent communities. Currently, he is working on projects pertaining to developmental aspects of stigmatizing attitudes towards mental illness and institutional trust.
J. T. Cookston is a member of the human development program faculty in the department of Psychology at San Francisco State University. His research focuses on the family context with emphasis on parenting, divorce, and interventions and policy for separating and divorcing families.
Abstract
Prospective associations between violent victimization, the quality of the parent-adolescent relationship, and the subsequent onset of violent aggression were examined. Using the National Longitudinal Study of Adolescent Health (Add Health), participants were divided into violent and non-violent cohorts based on whether they had committed an act of violence prior to Wave 1. Results showed that violent victimization at Wave 1 predicted the onset of violent aggression at Wave 2 for adolescents who were non-violent at baseline. Earlier violent victimization, however, had no effect on aggression trajectories for baseline violent adolescents. Parent-adolescent relations functioned as a protective buffer, such that violently victimized adolescents who reported high quality relationships with parents were less likely to be involved in violent aggression at Wave 2. Subsequent gender interaction analyses revealed that while the buffering effect was evident for males, parent-adolescent relations did not protect females from the onset of aggressive behaviors. Findings are evaluated in light of social learning and cycle of violence theories that highlight the role of violent victimization among adolescents.