01-07-2007 | Original Paper | Uitgave 5/2007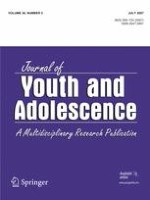 Compounded Risk: The Implications for Delinquency of Coming from a Poor Family that Lives in a Poor Community
Tijdschrift:
Auteurs:

Carter Hay, Edward N. Fortson, Dusten R. Hollist, Irshad Altheimer, Lonnie M. Schaible
Belangrijke opmerkingen
Carter Hay is an Assistant Professor in the College of Criminology and Criminal Justice at Florida State University in Tallahassee. His research examines the causes of individual involvement in crime and delinquency, particularly those causes related to the family environment. His prior publications have appeared in such journals as
Criminology
,
Journal of Research in Crime and Delinquency
,
Sociological Perspectives
, and
Theoretical Criminology
.
Edward N. Fortson is a Ph.D. student at Washington State University in the Department of Sociology. His areas of specialization are Criminology and Social Psychology. His current research interests include examining how structural features of communities influence individual levels of self-control, as well as investigating the social psychological processes impacting perceptions of equity and subsequent emotional reactions.
Dusten R. Hollist is an Assistant Professor of Sociology at The University of Montana-Missoula. His current research deals with the connection between family-based sources of strain and juvenile delinquency, and the roles and identities that adolescents use within delinquent peer networks.
Irshad Altheimer is an Assistant Professor of Criminal Justice at Wayne State University. He received his Ph.D. in sociology from Washington State University in 2005. His current research explores the factors that influence cross-national variation in crime and incarceration.
Lonnie M. Schaible is an Assistant Professor in the Department of Sociology and Criminal Justice at Eastern Washington University. His current research is focusing on the interaction between emotional labor, professional identity, and value dissonance on the levels of burnout and cynicism among police officers.
Abstract
The relationship between poverty and juvenile involvement in delinquency remains central to the study of adolescent development, but firm conclusions on this relationship have been elusive. The purpose of this study is to address an important limitation of prior research that often has been overlooked. This involves the standard practice of examining the poverty-delinquency relationship with an exclusive focus on the family's level of poverty. This study considers that the effects of family poverty on delinquency may significantly depend upon the level of poverty in the community in which the family lives. Specifically, drawing from a number of poverty-oriented theories of delinquency, we examine the hypothesis that community poverty amplifies the effects of family poverty, such that family poverty's effect becomes greater when community poverty also is high. Using data from a national sample of adolescents that are supplemented with U.S. census data, we find partial support for the idea that family poverty is consequential for delinquency, and that this is especially true for poor families that also live in poor communities.