2018 | OriginalPaper | Hoofdstuk
28. Urineverlies (urine-incontinentie bij vrouwen)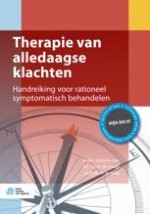 eerste hoofdstuk lezen
Auteur: Dr. J. H. Dekker
Uitgeverij: Bohn Stafleu van Loghum
Samenvatting beleid
De eerste stap is duidelijkheid krijgen met welke vorm van urine-incontinentie we te maken hebben: stress,
urgency
(urge) of gemengd. Vervolgens wordt de behandeling gekozen die aanbevolen wordt voor het gediagnosticeerde type of (in geval van gemengde incontinentie) van het type dat de hinderlijkste klachten geeft. Bij stressincontinentie zijn oefeningen voor de bekkenbodemmusculatuur of een pessarium eerste keus, bij ernstige vormen kan ook meteen de optie van een 'bandje' besproken worden. Bij urgency-incontinentie is de eerste keus blaastraining in combinatie met bekkenbodemspieroefeningen. Bij onvoldoende effect kan hier het anticholinergicum tolterodine aan toegevoegd worden. Goede informatie over incontinentie en over oefeningen voor de behandeling daarvan is te vinden op
www.​thuisarts.​nl/​urineverlies-bij-vrouwen
.