28-02-2017 | Uitgave 7/2017 Open Access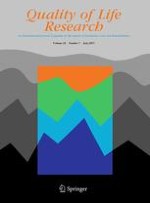 Understanding burden of illness for child growth hormone deficiency
Tijdschrift:
Auteurs:

Meryl Brod, Suzanne Lessard Alolga, Jane F. Beck, Lars Wilkinson, Lise Højbjerre, Michael Højby Rasmussen
Abstract
Purpose
Research demonstrates that children and adolescents with growth hormone deficiency (GHD) are impacted in multiple ways beyond their short stature; however, there are no disease-specific measures to assess these impacts. The purpose of this study was to examine the burden of GHD on children and adolescents, and to conduct concept elicitation to develop a model of the impact of GHD to support a disease-specific outcome measure.
Methods
Four focus groups and 52 telephone interviews were conducted with children with GHD and parents/guardians of children with GHD to understand the experience and impacts from the child's perspective, reported by children or parent-observers about the impact on the child. The interviews and focus groups were conducted in Germany, the United Kingdom, and the United States. Interview transcripts were analyzed thematically based on modified grounded theory principles.
Results
There were 73 descriptions of patient's experiences elicited from 70 respondents, as three respondents spoke for two children each. A majority of GHD descriptive narratives refer to boy children (
n
 = 51, 69.9%) and a majority of children had taken GHD treatment (
n
 = 64, 89%). Analysis identified four major areas of GHD impact: Signs and Symptoms (beyond short stature), Physical Aspects of Daily Life, Social Well-Being, and Emotional Well-Being.
Conclusions
The burden of GHD in children and adolescents is considerable and not limited to short stature. The severity of GHD impact on children and adolescents appears to be variable and individualized, but these data indicate that early identification and growth hormone treatment may lead to fewer impacts.