01-03-2017 | Review | Uitgave 7/2017 Open Access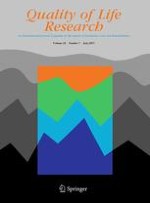 Systematic review of the health-related quality of life issues facing adolescents and young adults with cancer
Tijdschrift:
Auteurs:

Samantha C. Sodergren, Olga Husson, Jessica Robinson, Gudrun E. Rohde, Iwona M. Tomaszewska, Bella Vivat, Rebecca Dyar, Anne-Sophie Darlington, On behalf of the EORTC Quality of Life Group
Abstract
Purpose
For adolescents and young adults (AYAs), the impact of a cancer diagnosis and subsequent treatment is likely to be distinct from other age groups given the unique and complex psychosocial challenges of this developmental phase. In this review of the literature, we report the health-related quality of life (HRQoL) issues experienced by AYAs diagnosed with cancer and undergoing treatment.
Methods
MEDLINE, EMBASE, CINAHL, PsychINFO and the Cochrane Library Databases were searched for publications reporting HRQoL of AYAs. Issues generated from interviews with AYAs or from responses to patient reported outcome measures (PROMs) were extracted.
Results
166 papers were reviewed in full and comprised 72 papers covering 69 primary studies, 49 measurement development or evaluation papers and 45 reviews. Of the 69 studies reviewed, 11 (16%) used interviews to elicit AYAs' descriptions of HRQoL issues. The majority of the PROMs used in the studies represent adaptations of paediatric or adult measures. HRQoL issues were organised into the following categories: physical, cognitive, restricted activities, relationships with others, fertility, emotions, body image and spirituality/outlook on life.
Conclusion
The HRQoL issues presented within this review are likely to be informative to health care professionals and AYAs. The extensive list of issues suggests that the impact of a cancer diagnosis and treatment during adolescence and young adulthood is widespread and reflects the complexities of this developmental phase.