14-06-2017 | Acknowledgement | Uitgave 7/2017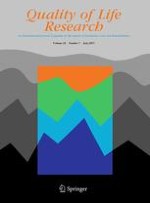 Thank you to Carolyn Schwartz
Tijdschrift:
After more than eight years of service as Co-Editor-in-Chief, Dr. Carolyn Schwartz is rotating off the editorial board of
Quality of Life Research
. During her extended term, the journal has seen a tremendous growth in popularity. Since 2009, when she began as Co-Editor-in-Chief, together with Dennis Revicki (who rotated off in 2015), the number of manuscripts submitted for publication has doubled, from 663 in 2009 to 1340 in 2016. ...