27-09-2016 | Original Article - Design Study Article | Uitgave 11/2016 Open Access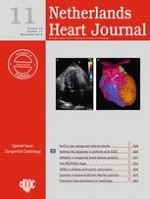 Transition from paediatric to adult care of adolescent patients with congenital heart disease: a pathway to optimal care
Tijdschrift:
Auteurs:

A. M. M. Strijbosch, R. Zwart, N. A. Blom, B. J. Bouma, M. Groenink, S. M. Boekholdt, R. de Winter, B. J. M. Mulder, A. P. Backx
Abstract
Introduction
Adolescents with congenital heart disease transition from a paediatric to an adult setting. This is associated with loss-to-follow-up and suboptimal care. Increasing numbers of patients justify a special program. In this study we evaluated the cooperative program between paediatric and adult cardiology departments in a tertiary referral centre.
Methods
In this retrospective study, patients with congenital heart disease with at least one appointment scheduled at the transition program between January 2010 and January 2015 were included. They were seen by a paediatric cardiologist at the age of 15 years in the paediatric department and from age 18 to 25 in the adult department. Demographic and medical data were collected from the electronic patient files.
Results
A total of 193 patients (105 males, 88 females) were identified. Sex distribution was almost equal. Most patients were 18–21 years of age. The largest group, 128 patients (67 %), lived within 50 kilometres of our hospital. Paediatric cardiologists referred 157 (81 %) of patients. General practitioners and cardiologists from outside our centre were important referrers for patients lost to follow-up, together accounting for 9 %. A total of 34 (18 %) patients missed an appointment without notification. Repeat offenders, 16 of 34 patients, formed a significant minority within this group. A total of 114 (59 %) patients were attending school, 46 (24 %) were employed, and 33 (17 %) patients were inactive. Activities are in line with capabilities. A nurse practitioner was involved with the 7 % with complex and psychosocial problems. Moderately severe congenital heart defects formed the largest patient category of 102 (53 %) patients. In 3 % of patients the diagnosis had to be revised or was significantly incomplete. In 30 (16 %) patients, cardiac diagnosis was part of a syndrome. Of the 193 patients, 117 (92 %) were in NYHA class I, with 12 (6 %) and 4 (2 %) patients falling into classes II and III, respectively.
Conclusions
A viable transition program can be built by collaboration between paediatric and adult cardiology departments with the same treating physician taking care of patients between 15 and 25 years of age. General practitioners are important in returning lost-to-follow-up patients to specialised care. Nurse practitioners are essential in the care for patients with complex congenital heart disease.