08-09-2016 | Original Article | Uitgave 11/2016 Open Access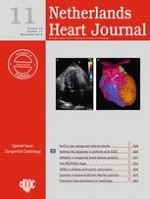 KinCor, a national registry for paediatric patients with congenital and other types of heart disease in the Netherlands: aims, design and interim results
Tijdschrift:
Auteurs:

L. M. Silva, I. M. Kuipers, F. van den Heuvel, R. Mendes, R. M. F. Berger, I. M. van Beynum, L. Rozendaal, L. A. J. Rammeloo, G. G. van Iperen, M. Schokking, S. Frerich, N. A. Blom, J. M. P. J. Breur, W. A. Helbing
Abstract
Objective
Studies in children with heart disease have been hampered by a lack of easily identifiable patient groups. Currently, there are few prospective population-based registries covering the entire spectrum of heart disease in children. KinCor is a Dutch national registry for children with heart diseases. This paper presents the aims, design and interim results of the KinCor project.
Methods
All children presenting at a Dutch university medical centre with a diagnosis of heart disease from 2012 onwards were eligible for registration in the KinCor database. Data entry is through a web-based portal. Entry codes have been synchronised with the European Paediatric Cardiac Coding system, allowing coupling with similar databases for adults, such as CONCOR.
Results
Between June 2012 and July 2015, 8421 patients were registered (76 % of those eligible). Median age of the patients was 9.8 years, 44.7 % were female; 6782 patients had morphological congenital heart disease. The most prevalent morphological congenital heart defects were ventricular septal defects (18 %), Tetralogy of Fallot (10 %) and transposition of great arteries (9 %). For 42 % of the patients additional diagnoses were registered. Sixty percent of patients had undergone at least one intervention (catheter intervention or surgery).
Conclusion
The KinCor database has developed into a large registry of data of children with all types of heart disease and continues to grow. This database will provide the opportunity for epidemiological research projects on congenital and other types of heart disease in children. Entry codes are shared with the CONCOR database, which may provide a unique dataset.