01-08-2015 | Original Paper | Uitgave 8/2015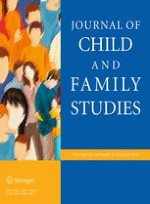 The Value of a Smile: Child Positive Affect Moderates Relations Between Maternal Emotion Dysregulation and Child Adjustment Problems
Tijdschrift:
Auteurs:

Molly Davis, Cynthia Suveg, Anne Shaffer
Abstract
Little is known about how processes underlying maternal psychopathology, such as emotion dysregulation, are related to children's adjustment problems. Further, scant research has explored child protective factors that can buffer these associations. We used a multi-method approach to examine whether child positive affect functions as a protective and/or promotive factor in the context of maternal emotion dysregulation in a cross-sectional sample of 95 mothers (
M
age = 30.38 years, SD = 6.10) and their preschool-age children (
M
age = 3.52 years,
SD
= .52). We assessed maternal emotion dysregulation using respiratory sinus arrhythmia data and a self-report measure. Mothers reported on their children's positive affect as well as their internalizing and externalizing behaviors. Results yielded significant bivariate relations between maternal self-reported emotion dysregulation and children's internalizing and externalizing problems. Moderation analyses indicated that high child positive affect facilitated adjustment across both internalizing and externalizing domains when maternal physiological emotion dysregulation was low. In addition, high child positive affect facilitated adjustment in the internalizing domain when self-reported maternal emotion dysregulation was low. The identification of factors contributing to adjustment problems during the preschool period is crucial given the potential for the prevention of long-term maladaptation, and our results suggest that child positive affect and maternal emotion dysregulation may be important targets for prevention and intervention work.