01-08-2015 | Original Paper | Uitgave 8/2015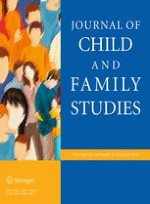 GIRLSS: A Randomized, Pilot Study of a Multisystemic, School-Based Intervention to Reduce Relational Aggression
Tijdschrift:
Auteurs:

Joni D. Splett, Melissa A. Maras, Connie M. Brooks
Abstract
We tested the effects of a school-based, multisystemic intervention to reduce relational aggression among adolescent girls, Growing Interpersonal Relationships through Learning and Systemic Supports (GIRLSS). GIRLSS is a 10-week, group counseling, caregiver training, and caregiver phone consultation intervention for relationally aggressive middle school girls. The study addresses the pressing need for empirical examination of ecologically valid, secondary intervention practices in this area. Thirty female youth in grades 6–8 (ages 12–15 years) and their parents were randomly assigned to either the intervention group (
N
= 22) or a wait list control group (
N
= 12). Changes in self, teacher and school counselor reported relationally aggressive behavior from pretest to posttest was compared across groups for statistical and clinically significant change. Intervention participants demonstrated significantly more change in the desired direction than control participants according to school counselors and an averaged score of school counselor and teacher-reported relational aggression. We discuss the clinical significance findings and implications of perceptual data from social validity surveys of each intervention component. Limitations are also discussed and the need for future research to further examine empirically and ecologically valid interventions for relational aggression in schools, community, and family contexts is highlighted.