07-01-2019 | Uitgave 2/2019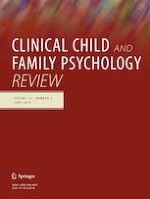 The Role of Irritability in the Treatment of Behavior Disorders: A Review of Theory, Research, and a Proposed Framework
Tijdschrift:
Auteurs:

Chloe Zachary, Deborah J. Jones
Belangrijke opmerkingen
Publisher's Note
Springer Nature remains neutral with regard to jurisdictional claims in published maps and institutional affiliations.
Abstract
Research provides strong evidence that the symptoms of Oppositional Defiant Disorder (ODD) are comprised of at least two dimensions: irritability and defiance. Given that these two dimensions have distinct etiologies and long-term risk profiles, they may also warrant different treatment approaches. In particular, impaired emotion regulation plays a central role in the irritable dimension of ODD. As such, this subgroup of youth and their families may benefit from greater consideration of and attention to emotion-focused strategies than is standard in traditional Behavioral Parent Training (BPT) approaches. In support of this hypothesis, this review will (1) examine the etiological models guiding the theoretical approach to standard BPT; (2) evaluate theory and research on emotion socialization broadly and its role in the etiology and maintenance of irritability in children with BDs; (3) propose an emotion socialization-based etiological model for the irritable dimension of child oppositionality; and (4) argue for the use of emotion-focused parent training in the treatment of such youth. Clinical implications, gaps in the current state of the literature, and future directions for research will also be discussed.