01-04-2011 | Uitgave 3/2011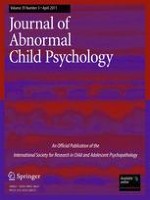 The Academic Experience of Male High School Students with ADHD
Tijdschrift:
Auteurs:

Kristine M. Kent, William E. Pelham Jr., Brooke S. G. Molina, Margaret H. Sibley, Daniel A. Waschbusch, Jihnhee Yu, Elizabeth M. Gnagy, Aparajita Biswas, Dara E. Babinski, Kathryn M. Karch
Belangrijke opmerkingen
This study was supported by grant AA11873 from the National Institute of Alcohol Abuse and Alcoholism. Research was also supported in part by AA00202, AA08746, AA12342, AA0626, and grants from the National Institute on Drug Abuse (DA12414, DA05605, F31 DA017546), the National Institute on Mental Health (MH12010, MH4815, MH47390, MH45576, MH50467, MH53554, MH069614), the National Institute of Environmental Health Sciences (ES0515-08), and Institute of Education Sciences (IESLO3000665A, IESR324B060045).
Abstract
This study compared the high school academic experience of adolescents with and without childhood ADHD using data from the Pittsburgh ADHD Longitudinal Study (PALS). Participants were 326 males with childhood ADHD and 213 demographically similar males without ADHD who were recruited at the start of the follow-up study. Data were collected yearly from parents, teachers and schools. The current study used assessment points at which the participants were currently in or had recently completed grades 9, 10, 11, and 12. Results indicated that adolescents with ADHD experienced significant academic impairment in high school relative to comparison adolescents, including lower overall and main academic subject grade point averages (GPA), lower levels of class placement (e.g. remedial vs. honors), and higher rates of course failure. In addition, teacher reports indicated that adolescents with ADHD completed and turned in a significantly lower percentage of assignments and were significantly less likely to be working up to their potential. Adolescents with ADHD were also significantly more likely to be absent or tardy during the academic year, and they were over eight times more likely than adolescents without ADHD to drop out of high school. These findings demonstrate that children with ADHD continue to experience severe academic impairment into high school.