01-09-2012 | Artikelen | Uitgave 4/2012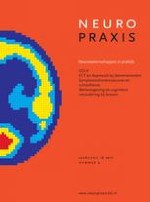 Symptoomdimensiescores zijn geassocieerd met progressieve hersenvolumeveranderingen bij schizofrenie
Tijdschrift:
Auteurs:

Mw. drs. G. Collin, mw. dr. N. E. M. van Haren, dr. H. G. Schnack, mw. prof. dr. H. E. Hulshoff Pol, mw. dr. W. Cahn, prof. dr. E. M. Derks
Belangrijke opmerkingen
Noot
Dit artikel is een Nederlandstalige bewerking van een artikel dat eerder verscheen in Schizophrenia Research als Collin et al. (2012). Symptom dimensions are associated with progressive brain volume changes in schizophrenia. Schizophrenia Research, 138,2–3, 171-176.
arts-onderzoeker
onderzoeker
onderzoeker
hoogleraar neurowetenschappen
psychiater
hoogleraar psychiatrische genetica
Schizofrenie is een progressieve hersenziekte: in de loop van de ziekte is er een voortschrijdend verlies van hersenweefsel. Er is echter aanzienlijke variatie binnen patiënten wat betreft de mate van progressie. Schizofreniepatiënten verschillen onderling eveneens sterk qua symptomatologie. Het is vooralsnog onbekend of die heterogeniteit op klinisch en biologisch vlak aan elkaar gerelateerd zijn. Als er een relatie bestaat, zou dit impliceren dat er mogelijk afzonderlijke neuropathologische mechanismen ten grondslag liggen aan verschillende klinische aspecten van schizofrenie. Onderzoek naar deze relatie zou de detectie van uiteenlopende neuropathologische en genetische factoren in schizofrenie kunnen faciliteren.