01-09-2012 | Artikelen | Uitgave 4/2012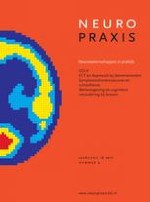 Elektroconvulsietherapie (ECT) als behandeling voor depressie bij dementerenden?1
Tijdschrift:
Auteur:

Dr. F. A. Oudman
Belangrijke opmerkingen
Noot
1 Dit artikel verscheen eerder onder de titel Is electroconvulsive therapy (ECT) effective and safe for treatment of depression in dementia? A short review. The Journal of ECT, 28, 34-38.
psycholoog
Depressie is één van de meest voorkomende psychiatrische aandoeningen bij ouderen die lijden aan een vorm van dementie. Nederlands onderzoek schat dat circa 19 procent van de bewoners van een psychogeriatrische (dementie-) afdeling naast dementie ook nog eens belast is met een depressie, terwijl het percentage bij gezonde ouderen 'slechts' rond de twee procent ligt (Verkaik, et al., 2009).
Een depressie wordt gekenmerkt door een gedeprimeerde stemming of verlies van belangstelling, waarbij er sprake moet zijn van een betekenisvolle mate van lijden of belemmering in het leven van de betrokkene. Het herkennen van depressieve symptomen bij dementerenden wordt in de praktijk vaak sterk bemoeilijkt doordat cognitieve stoornissen problemen kunnen geven die in hun uitingsvorm lijken op de symptomen van een depressie. Een depressie die niet herkend wordt door behandelaars heeft veel gevolgen voor een dementerende: er lijkt samenhang te zijn met een snellere cognitieve achteruitgang, een snellere opname in een verpleeghuis en een hogere mortaliteit. Dit maakt depressie bij dementie tot een groeiend probleem dat velen in de samenleving treft of zal gaan treffen (Kales et al., 2005).