01-06-2006 | ORIGINAL ARTICLE | Uitgave 3/2006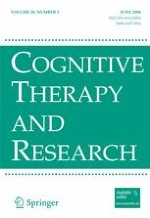 Social Anxiety and the Fear of Causing Discomfort to Others
Tijdschrift:
Auteurs:

Neil A. Rector, Nancy L. Kocovski, Andrew G. Ryder
Abstract
Patients with social phobia frequently report fearing that their symptoms of anxiety will adversely affect the comfort and performance of others, but these fears are not typically included in traditional measures. In Study 1, an initial 26-item pool was developed to assess this fear dimension and then administered in conjunction with measures of social phobia, anxiety and depression, to undergraduate students (
n
= 277), patients with social phobia (
n
= 101) and patients with panic disorder (
n
= 25). A unidimensional scale, the Social Anxiety—Discomfort to Others Scale (SA-DOS), was derived based on exploratory factor analyses and item-response theory. The unitary structure of the SA-DOS was replicated in a second sample of patients with social phobia (
n
= 100). In Study 2, participants with social phobia were found to have significantly higher SA-DOS scores than patients with panic disorder and student controls. Further, the SA-DOS was found to possess convergent and divergent validity in relation to validated measures assessing fear of negative evaluation and psychopathological constructs from the cross-cultural literature. In Study 3, baseline SA-DOS scores were found to be associated with poorer treatment response in a sample of patients with social phobia (
n
= 55) receiving Cognitive-Behavioral Group Therapy. These preliminary findings suggest that fear of causing discomfort to others is a related but distinct fear dimension of social phobia requiring greater attention in the conceptualization and treatment of the disorder.