01-06-2006 | Original Paper | Uitgave 3/2006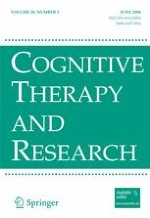 Development and Validation of the Dysfunctional Attitudes Scale for Children: Tests of Beck's Cognitive Diathesis-stress Theory of Depression, of Its Causal Mediation Component, and of Developmental Effects
Tijdschrift:
Auteurs:

David U. D'Alessandro, Kimberly D. Burton
Abstract
Two studies investigated Beck's cognitive diathesis-stress theory of depression in children. Study 1 sought to develop and validate the Dysfunctional Attitudes Scale for Children (DAS-C). Children (
N
= 453, ages 8–14) completed an item pool and measures assessing divergent validity, with a readministration 3 weeks later. The finalized DAS-C is a 22-item self-report measure with sound psychometric properties. Study 2 tested the DAS-C as a measure of vulnerability for depression. Children (
N
= 241, ages 7–14) completed the DAS-C and a measure of depressive symptoms one week before a universal stressor (receipt of report cards). Symptomatology was reassessed immediately after the stressor and five days later. Dysfunctional attitudes moderated the impact of stress on changes in symptom levels five days later, such that high-DAS-C children showed greater symptom increases relative to low-DAS-C children when experiencing stress. Consistent with cognitive-developmental theory, further analyses revealed that this interaction predicted symptom changes only in more cognitively mature children. Negative views of the self, but not of the world or of the future, mediated the relationship between the DAS-C × stress interaction and depressive changes. This work introduces a measure of depressogenic schemata to extend Beck's theory to school-aged children, suggesting that these schemata contribute to the etiology of depressive symptoms in children as young as 11 years.