01-03-2009 | Uitgave 1/2009 Open Access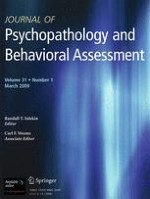 Reactive and Regulative Temperament in Youths: Psychometric Evaluation of the Early Adolescent Temperament Questionnaire-Revised
Auteurs:

Peter Muris, Cor Meesters
Belangrijke opmerkingen
Peter Muris, Institute of Psychology, Erasmus University Rotterdam, and Cor Meesters, Department of Clinical Psychological Science, Maastricht University, The Netherlands. Pim Blijlevens, Dorrette Driesen, Hinke Hiemsta, Maudi van Hoften, Lotte Vermeulen, and Sylvia Wessels are kindly acknowledged for their assistance with the data collection.
Abstract
The present study examined the psychometric properties of the self-report version of the Early Adolescent Temperament Questionnaire-Revised (EATQ-R), which is a scale for measuring reactive and regulative temperament traits, in a large sample of children and adolescents (
N 
= 1,055). The results indicated that the internal consistency was acceptable for most EATQ-R temperament scales. Further, principal components analysis of the instrument yielded a structure with nine components, which generally reflected the temperament scales of the EATQ-R. The test–retest stability of the scale was moderate to good, whereas the parent–child agreement was rather low. Finally, the scale correlated in a theoretically meaningful way with children's self-reports of personality and psychopathology. It can be concluded that the EATQ-R is a useful scale for measuring aspects of reactive and regulative temperament in children and adolescents, although there is certainly room for improving the instrument.