01-03-2013 | Spectrum | Uitgave 2/2013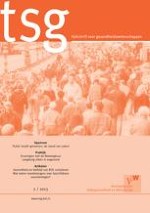 Public Health Genomics
Tijdschrift:
Auteur:

Bohn Stafleu van Loghum
Abstract
Public health genomics is receiving much attention nowadays. The number of scientific publications is rapidly increasing and even a journal entitled 'Public Health Genomics' was recently started. Both in the U.S.A. as well as in Europe a number of institutes and networks have been founded that are focusing on research and implementation of public health applications based on the internationally formulated definition of Public Health Genomics in Bellagio in 2005. Also in the Netherlands, a growing interest in recent years can be observed. This is illustrated by the fact that both VU medical center and Maastricht University have already for some years specific departments dealing with public health genomics, the subject of this Spectrum. The first Spectrum-contribution is providing a short summary of the report 'public health genomics; opportunities for prevention?'. Matthijs van den Berg and Henk van Kranen (RIVM) conclude that the number of applications of genomics in the field of public health is still rather scanty. However, experts are optimistic about developments with respect to disease prevention, but are more reserved with respect to health promotion. There is also a general emphasis on more fundamental and especially translational research to bring genomics from ' cell or bench to society'. Within the second contribution of Margreet Bloemers (ZonMw) it is stated that this report will be very supportive in future programming of research because it provides a clear overview of the field.
Especially the expectation that public health genomics will contribute to more precision medicine and providing more effective prevention strategies, motivates ZonMw to keep track of future developments within public health genomics. The third contribution gives a touch of the health policy perspective from the Ministry of Health and is written by Annemarieke Rendering en Maaike Prins. Their main concern is to guard the balance between benefits and risks and to provide the opportunity to make well informed choices. The fourth contribution comes from a public health forecasting perspective and is written by Jeanne van Loon, Nancy Hoeymans and Casper Schoemaker (RIVM). They are pointing to cognitive and normative uncertainties related to public health genomics and explain that these and other related uncertainties will be given a central position within the forthcoming public health forecast of 2014.Within the fifth contribution from Martina Cornel and Lidewij Henneman (VUMC) emphasis is put on the implementation of genetic tests with proven clinical utility. They also warn against premature implementation of internet distributed direct to consumer genetic tests. In the final sixth contribution, Angela Brand and Servaas Morre are providing a future perspective of precision medicine and personalized healthcare based on the P4 medicine principles. Epigenomics is of particular interest to explain and contribute to gene-environment interactions. From all contributions, it emerges that the expectations on the future impact of public health genomics on public health are still rather high. We should avoid making too optimistic predictions like the statements accompanying the publication of the Human Genome Project.