01-09-2010 | Uitgave 3/2010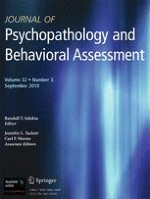 Potential Symptoms of ADHD for Emerging Adults
Auteurs:

David A. Fedele, Cynthia M. Hartung, Will H. Canu, Benjamin M. Wilkowski
Belangrijke opmerkingen
We thank the following individuals for their contributions to this project: Russell Barkley, Elizabeth Lefler, Lindsey Tabor, and DeMond Grant.
Abstract
To identify potential diagnostic criteria for Attention-Deficit/Hyperactivity Disorder (ADHD) in emerging adults using a combination of
DSM-IV
and Barkley, Murphy, and Fischer's (
2007
) executive functioning (EF) items. Participants in ADHD and control groups self-report on: (1) the 18
DSM-IV
criteria, (2) 87 Barkley et al. (
2007
) EF items, and (3) 10 impairment items. Factor analyses, expert ratings, and logistic regression analyses reveal two factors named Cognitive Inflexibility (CI) and Disinhibition (DI) that have potential diagnostic utility. Confirmatory factor analyses and further regression analyses reveal that specific
DSM-IV
items and items from CI and DI factors account for unique variance in self-reported impairment. Therefore, a 17-item set consisting of CI and DI items is proposed for further study. Reflecting the developmental nature of ADHD, a novel set of 17 items is shown to have potential diagnostic utility for emerging adults.