01-09-2010 | Uitgave 3/2010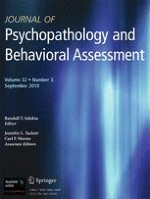 Psychopathy and APD in Non-forensic Patients: Improved Predictions or Disparities in Cut Scores?
Auteurs:

Richard Rogers, Jill E. Rogstad
Abstract
Psychopathy has traditionally been viewed as a distinct syndrome that is superior to Antisocial Personality Disorder (APD) for the prediction of violent and aggressive behavior. However, direct comparisons of psychopathy and APD are infrequent and mostly occur in correctional populations. Moreover, any observed differences could simply reflect a disparity in cut scores. The constellation of Psychopathy Checklists (PCL-R, PCL:SV, and PCL:YV) set the minimum cut score at 75% (e.g., ≥30 of 40 for the PCL-R), which is far more stringent than what is required for the DSM-IV APD adult criteria (i.e., ≥ 3 of 7 or 42.9%). For use in a non-forensic setting, we re-examined the MacArthur Risk Assessment data set to evaluate the usefulness of the PCL:SV and APD for short-term predictions of violent and aggressive acts. Using the ≥75% cut score to predict violence produced low sensitivities for both the psychopathy (.18) and APD adult criteria (.14) but very high specificities (.94). Reducing the cut score to approximately 40% greatly improved sensitivity rates (.62 for psychopathy and .85 for Adult APD criteria) at the expense of specificity (.59 and .40 respectively). In making multiple comparisons, psychopathy did not appear superior to APD adult criteria in predicting violent or other aggressive behavior. Instead, both constructs had limited predictive power with patients in a non-forensic setting. On an item level, specific indicators of violent behavior were explored.