01-09-2010 | Uitgave 3/2010 Open Access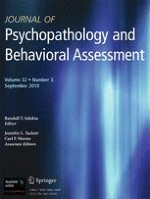 Concurrent Validity of the Child Behavior Checklist DSM-Oriented Scales: Correspondence with DSM Diagnoses and Comparison to Syndrome Scales
Auteurs:

Chad Ebesutani, Adam Bernstein, Brad J. Nakamura, Bruce F. Chorpita, Charmaine K. Higa-McMillan, John R. Weisz, The Research Network on Youth Mental Health
Belangrijke opmerkingen
The Research Network on Youth Mental Health is a collaborative network funded by the John D. and Catherine T. MacArthur Foundation. Network Members at the time this work was performed included: John Weisz, Ph.D. (Network Director), Bruce Chorpita, Ph.D., Robert Gibbons, Ph.D., Charles Glisson, Ph.D., Evelyn Polk Green, M.A., Kimberly Hoagwood, Ph.D., Peter S. Jensen, M.D., Kelly Kelleher, M.D., John Landsverk, Ph.D., Stephen Mayberg, Ph.D., Jeanne Miranda, Ph.D., Lawrence Palinkas, Ph.D., Sonja Schoenwald, Ph.D.
Abstract
This study used receiver operating characteristic (ROC) methodology and discriminative analyses to examine the correspondence of the Child Behavior Checklist (CBCL) rationally-derived
DSM
-oriented scales and empirically-derived syndrome scales with clinical diagnoses in a clinic-referred sample of children and adolescents (
N
 = 476). Although results demonstrated that the CBCL Anxiety, Affective, Attention Deficit/Hyperactivity, Oppositional and Conduct Problems
DSM
-oriented scales corresponded significantly with related clinical diagnoses derived from parent-based structured interviews, these
DSM
-oriented scales did not evidence significantly greater correspondence with clinical diagnoses than the syndrome scales in all cases but one. The
DSM
-oriented Anxiety Problems scale was the only scale that evidenced significantly greater correspondence with diagnoses above its syndrome scale counterpart —the Anxious/Depressed scale. The recently developed and rationally-derived
DSM
-oriented scales thus generally do not add incremental clinical utility above that already afforded by the syndrome scales with respect to corresponding with diagnoses. Implications of these findings are discussed.