01-05-2019 | Uitgave 4/2019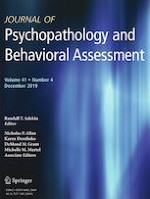 Motives for Nonsuicidal Self-Injury in Individuals with Lifetime Depressive Disorders and Posttraumatic Stress Disorder
Auteurs:

Courtney N. Forbes, Matthew T. Tull, Julia R. Richmond, Alexander L. Chapman, Katherine L. Dixon-Gordon, Kim L. Gratz
Belangrijke opmerkingen
Publisher's Note
Springer Nature remains neutral with regard to jurisdictional claims in published maps and institutional affiliations.
Abstract
Although researchers have identified a number of factors that may motivate individuals to engage in nonsuicidal self-injury (NSSI), few studies have examined whether motives for NSSI differ as a function of psychiatric diagnosis. Therefore, the goal of the present study was to examine motives for lifetime NSSI among individuals with a history of psychiatric disorders associated with elevated rates of NSSI: depressive disorders and posttraumatic stress disorder (PTSD). Young adults (
N
 = 139) with a history of NSSI completed several diagnostic interviews and questionnaires, including a measure of lifetime NSSI motives. Results demonstrated that participants with (vs. without) a lifetime depressive disorder reported significantly lower levels of interpersonal influence motives for NSSI, and participants with (vs. without) lifetime PTSD reported significantly higher levels of emotional relief and feeling generation motives. Further, results revealed a significant interaction between lifetime depressive disorders and PTSD for interpersonal communication motives; specifically, whereas participants with lifetime diagnoses of both a depressive disorder and PTSD did not differ significantly in reported interpersonal communication motives from participants with neither diagnosis, those with lifetime PTSD but without a lifetime depressive disorder reported significantly higher levels of interpersonal communication motives than those without either diagnosis. Results suggest that a history of depression and PTSD (alone and in combination) may be associated with different motives for NSSI.