17-05-2019 | Uitgave 4/2019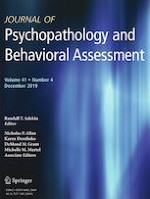 The Development and Validation of the Short Cyberchondria Scale (SCS)
Auteurs:

Nataša Jokić-Begić, Una Mikac, Doris Čuržik, Claire Sangster Jokić
Belangrijke opmerkingen
Publisher's Note
Springer Nature remains neutral with regard to jurisdictional claims in published maps and institutional affiliations.
Abstract
Assessment tools for measuring cyberchondria, a process of increased anxiety over one's health as a result of excessive online searching, are still in the early stages of development. The goals of the present study were to develop a short cyberchondria scale and to evaluate its structure, reliability and validity among participants from a community sample. The analyses conducted in this study were based on data from three samples (
N
1
 = 540;
N
2
 = 379;
N
3
 = 594) that were recruited online via a snowball method. Participants provided demographic information and completed the Short Cyberchondria Scale (SCS) as well as three comparison measures (Cyberchondria Severity Scale, Anxiety Sensitivity Index and Health Anxiety Questionnaire) via an online survey tool. Extensive analyses were performed in order to inspect various aspects of the validity of the new SCS scale, including its factor structure, measurement invariance and convergent validity. The findings of the present study suggest that the SCS is a satisfactory instrument for measuring cyberchondria.