22-02-2019 | ORIGINAL PAPER | Uitgave 8/2019 Open Access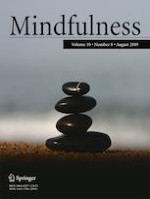 Mindfulness Promotes a More Balanced Time Perspective: Correlational and Intervention-Based Evidence
Tijdschrift:
Auteurs:

Michael Rönnlund, Antonina Koudriavtseva, Linnea Germundsjö, Terese Eriksson, Elisabeth Åström, Maria Grazia Carelli
Belangrijke opmerkingen
Publisher's Note
Springer Nature remains neutral with regard to jurisdictional claims in published maps and institutional affiliations.
Abstract
Objectives
To investigate the relationship between mindfulness and aspects of time perspective (TP, i.e., habitual views of past, present, future).
Methods
We examined cross-sectional associations between an established measure of mindfulness (FFMQ) and an extended version of the Zimbardo Time Perspective Inventory (Swedish ZTPI; S-ZTPI) in a sample with little experience of mindfulness training (
n
 = 212). In addition, we evaluated the effects of two mindfulness-based interventions (a mindfulness instructor course involving 29 participants and a mindful self-compassion program,
n
 = 40 for the intervention group,
n
 = 41 for controls) on mindfulness and measures of TP including an aggregate measure of deviations from a proposed optimal, or balanced, time perspective (DBTP).
Results
Cross-sectional data were consistent with a model by which part of the relationship between mindfulness and perceived stress is mediated by reduced DBTP. Global mindfulness scores showed the strongest (negative) associations with the S-ZTPI scales Future Negative and Past Negative. Comparisons of pre/post-intervention data revealed significant mindfulness-based intervention-related reductions of DBTP (Cohen's
d
 = − 0.46), with lowered scores on Past Negative and Future Negative and a small increase on Past Positive.
Conclusions
The results support the notion that a higher level of mindfulness promotes a more balanced time perspective, with a reduced focus on negative aspects of the past and negative anticipations of the future. Relations to repetitive negative thought processes (rumination, worry) and a potential bidirectional influence of mindfulness and aspects of time perspective are discussed.