16-02-2019 | ORIGINAL PAPER | Uitgave 8/2019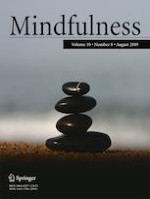 Unified Consciousness and the Effect of Body Scan Meditation on Happiness: Alteration of Inner-Body Experience and Feeling of Harmony as Central Processes
Tijdschrift:
Auteurs:

Michaël Dambrun, Amandine Berniard, Thibault Didelot, Magali Chaulet, Sylvie Droit-Volet, Maya Corman, Catherine Juneau, Léa M. Martinon
Belangrijke opmerkingen
Publisher's Note
Springer Nature remains neutral with regard to jurisdictional claims in published maps and institutional affiliations.
Abstract
Objectives
The main aim of this paper was to investigate the processes by which body scan meditation (BSM) increases happiness. We hypothesized that BMS would lead to a transition from the narrative self to the minimal self, but also and more importantly to a transition from the minimal self to a state of more unified consciousness characterized by both self-loss and oneness.
Methods
Participants (
n
 = 89; 79 women and 10 men;
M
age
 = 19.5) were randomly assigned to either a body scan, a relaxing spiritual-minimalist style of music, or an active control condition. All constructs were assessed by means of self-report measures.
Results
As expected, the increase in unified consciousness and happiness was greater in the BSM condition than in the two other conditions, with unified consciousness mediating the effect of BSM on happiness (
b
 = 0.10, CI: 0.03, 0.19). Feeling of being in harmony emerges as a significant mediator of the effect of unified consciousness on happiness (
b
 = 0.06, CI: 0.01, 0.13), while alteration in inner-body experience significantly mediates the effect of BSM on unified consciousness (
b
 = 0.35, CI: 0.12, 0.62). The increase in decentering and decrease in mind-wandering during the meditation does not explain the effect of BSM on happiness and unified consciousness.
Conclusions
Altogether, the results support the hypothesis that BSM alters both the narrative and the minimal self and favors a transition toward a state of unified consciousness.