01-02-2008 | Artikel | Uitgave 1/2008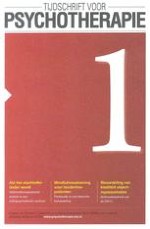 Kenmerken van helpende zelfonthulling
Een kwalitatief onderzoek naar de cliëntbeleving van zelfonthulling van de therapeut
Tijdschrift:
Auteurs:

Jutta Schnellbacher, Mia Leijssen
Belangrijke opmerkingen
jutta schnellbacher
, psycholoog-muziektherapeut, is doctoraatsbursaal in het departement Psychologie aan de KU Leuven.
mia leijssen
, psychotherapeut en hoogleraar, doceert Cliëntgerichte psychotherapie op masters- en postgraduaatniveau in het departement Psychologie aan de KU Leuven. Correspondentieadres: Jutta Schnellbacher, Onderzoeksgroep psychotherapie en dieptepsychologie, Departement psychologie, KU Leuven, Tiensestraat 102, bus 3722, 3000 Leuven.
Het onderzoek werd uitgevoerd in het kader van de licentiaatverhandeling van Jutta Schnellbacher (2005), onder leiding van prof. dr. Mia Leijssen. Wij danken Robert Elliott voor zijn helpende en waardevolle aantekeningen bij een eerdere versie van dit artikel. Onze oprechte dank gaat ook uit naar de cliënten en therapeuten die aan het onderzoek deelnamen. Zonder hun openheid, vertrouwen en tijd was dit onderzoek niet mogelijk geweest.
Samenvatting
Characteristic features of helpful therapist self-disclosure
Therapist self-disclosures can be powerful and influential interventions, depending on their form and timing in the interaction and the therapy process. In a qualitative case study (N=6) using the pattern matching method, we analyzed client experiences of characteristic features of self-disclosures. The results suggest that important formal characteristics of helpful self-disclosure are:
the self-disclosure is delivered in a collaborative manner fostering mutual dialogue;
a clear and focused use tuned to the needs of the individual client.
Concerning timing, clients experienced two characteristics as particularly important:
fit with client immediate experience or implicit client needs or requirements;
noninterference with the client's internal track.