01-02-2008 | Artikel | Uitgave 1/2008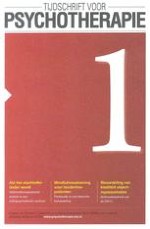 Nieuwe ontwikkelingen in de behandeling van de borderlinepersoonlijkheidsstoornis?
Een vergelijkende analyse en implicaties voor toekomstig onderzoek
Tijdschrift:
Auteurs:

Drs. J. A. Koelen, E. H. M. Eurelings-Bontekoe
Belangrijke opmerkingen
drs. j.a. koelen
, psycholoog, is als psychodiagnosticus en onderzoeker werkzaam in De Eikenboom, centrum psychosomatiek te Zeist.
dr. e.h.m. eurelings-bontekoe
, klinisch psycholoog BIG, is universitair hoofddocent Klinische psychologie, Sectie klinische, gezondheids- en neuropsychologie aan de Universiteit Leiden en psychodiagnosticus bij Mentrum GGZ te Amsterdam.
J.A. Koelen, centrum psychosomatiek, Altrecht GGZ, Oude Arnhemseweg 260, 3705 BK Zeist.
De auteurs danken Patrick Luyten voor zijn suggesties bij een eerdere versie van dit artikel.
Samenvatting
New developments in the treatment of borderline personality disorder? A comparative analysis and implications for future research
This article provides an overview of current treatments of borderline personality disorder that have been systematically studied in randomized controlled trials: Mentalization-based treatment (MBT), Schema-focused therapy (SFT), Transference-focused psychotherapy (TFP) en Dialectical behavior therapy (DBT). Available knowledge concerning the absolute and relative efficacy of these treatments is discussed. It is concluded that particularly MBT, SFT and TFP seem efficacious, yet little is known about the mechanisms of change. Guidelines for future research are also discussed.