19-12-2019 | ORIGINAL PAPER | Uitgave 3/2020 Open Access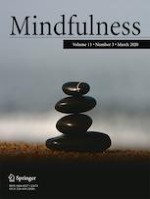 Introducing the eMCC™: A Validated Taxonomy to Advance Targeted Application of Mindfulness Skills
Tijdschrift:
Auteurs:

Ruth Q. Wolever, Joel A. Kahn, Jennifer Davis, Denise Shields, Poppy L. A. Schoenberg
Belangrijke opmerkingen
Electronic supplementary material
Publisher's Note
Springer Nature remains neutral with regard to jurisdictional claims in published maps and institutional affiliations.
Abstract
Objective
Describe the two-phase validation process for a taxonomy of skills learned through mindfulness practice.
Methods
Phase I (development) utilized 11 subject matter experts (SMEs) over 5 months. Phase II (judgment) enrolled 60 international SMEs from 116 invited through snowball sampling. They were mostly white (80%) or Asian (15%) women (70%) with longstanding personal mindfulness practices (M = 20 years; SD = 9.6) and extensive mindfulness teaching experience (M = 11 years; SD = 6.7); 59%
>
50 years; 88% had graduate degrees. SMEs rated relevance and clarity to calculate Individual Content Validity Indices (I-CVIs) for each category per tier and average CVIs (ave-CVIs) for entire tiers. Participation rate was 52% and 42 SMEs rated secondary tiers.
Results
I-CVIs ranged from 0.57 to 0.97, suggesting the removal of one category from the primary tier, leaving an ave-CVI for relevance of 0.92 (range 0.73–0.97). Clarity ratings for the primary tier (ave-CVI = 0.75; range of I-CVI = 0.52–0.88) necessitated exploration of the subcategories of Awareness (second tier;
N
 = 42) to refine description (ave-CVI = 0.80 for clarity; range 0.64–0.93) while showing excellent content validity for both relevance and fit (ave-CVI = 0.95; range 0.88–1.0 for both).
Conclusions
The eMindful Mindfulness Classification Construct™ (eMCC™) is a validated, atheoretical taxonomy of skills learned through mindfulness practice, created to support development of more precise mindfulness-based interventions (MBIs) that target skill deficits associated with clinical conditions. Further research will validate subcategories, associate specific practices per category, and assess MBIs designed to target specific skills from the eMCC™.