Gepubliceerd in: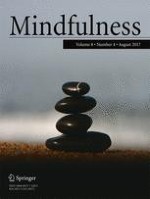 26-12-2016 | ORIGINAL PAPER
Impact of a Tibetan Buddhist Meditation Course and Application of Related Modern Contemplative Practices on College Students' Psychological Well-being: a Pilot Study
Gepubliceerd in: Mindfulness | Uitgave 4/2017
Log in om toegang te krijgen
Abstract
The intent of the current research was to explore the impact of a specific Tibetan Buddhist meditation course containing a lab for applied practice of modern techniques upon psychological well-being in college students. We evaluated the impact of a semester-long undergraduate Tibetan Buddhist meditation course on the psychological well-being of 205 students and assessed whether changes in well-being were mediated by mindfulness. The course was composed of two weekly lectures regarding the tradition and modern applications of meditation, respectively, and a weekly lab in which the students were taught a survey of related modern contemplative techniques to practice. Students were assessed at the beginning, middle, and end of the course, and their time spent practicing the exercises were prospectively recorded. Participants reported statistically significant increases in self-reported mindfulness, self-compassion, and positive coping and significant decreases in self-reported anxiety. Mindfulness was a significant predictor of changes in self-compassion and anxiety. These results suggest that a large lecture course with weekly meditation practice can have a positive impact on the psychological well-being of students and that some of these changes are mediated by mindfulness.