19-01-2017 | ORIGINAL PAPER | Uitgave 4/2017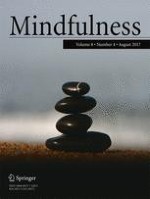 The Four Immeasurables Meditations: Differential Effects of Appreciative Joy and Compassion Meditations on Emotions
Tijdschrift:
Auteurs:

Xianglong Zeng, Vivian Y. L. Chan, Xiaoliu Liu, Tian P. S. Oei, Freedom Y. K. Leung
Belangrijke opmerkingen
Electronic supplementary material
The online version of this article (doi:
10.​1007/​s12671-016-0671-0
) contains supplementary material, which is available to authorized users.
Abstract
The four immeasurables meditations (FIMs) cultivate four different attitudes in Buddhism. However, in psychological research, these meditations have been combined and their differences have not been directly evaluated. The current study provided the first comparison between appreciative joy meditation (AJM) and compassion meditation (CM). Ninety college students were allocated to three groups which included AJM, CM, and neutral facial visualization in a laboratory setting. The students were asked to practice corresponding meditations for friends followed by that for strangers. The self-reported emotions were measured before and after the meditations for different targets, and the emotional Stroop task was administered following the meditation for friends. The major findings included the following: (1) AJM and CM for strangers enhanced other-focused positive emotions (e.g., love) compared with the control group, indicating both AJM and CM promote pro-socialness. (2) Compared with the other conditions, CM for friends and for strangers increased sadness and CM for friends decreased happiness and overall positive emotional valence, whereas AJM for strangers enhanced happiness and overall positive emotional valence, suggesting that the two FIMs had different effects on emotional valence. (3) There were no significant interactions for self-focused positive emotions (e.g., pride) or interpersonal negative emotions (e.g., envy), but AJM exhibited a potential effect on the suppression of interpersonal negative emotions compared with the other conditions. (4) No significant interaction was found for low arousal positive emotions (e.g., calm) and overall arousal. (5) Findings from the Stroop task indicated that AJM tended to result in longer reaction times compared with the other groups, and daily appreciative joy also affected the reaction times. These findings indicate that FIMs should be differentiated in psychological research because of their different effects. The potential mechanisms underlying the effects of FIMs and their implications for research and practice of FIMs were also discussed.