01-02-2014 | Artikelen | Uitgave 1/2014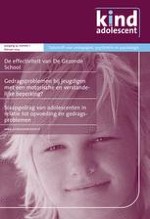 Gedragsproblemen bij jeugdigen met een motorische en verstandelijke beperking: relaties met persoonlijkheidskenmerken en huwelijksstress van ouders
Tijdschrift:
Auteurs:

MSc Cis Vrijmoeth, PhD Dr. Elegast Monbaliu, MSc Emmy Lagast, Dr. Peter Prinzie
Belangrijke opmerkingen
C. Vrijmoeth MSc
is onderzoeker, Erasmus
mc
.
Dr. E. Monbaliu
, PhD, is stafmedewerker wetenschappelijk onderzoek, Dienstencentrum Gid(t)s, Katholieke Universiteit Leuven.
E. Lagast
MSc
is orthopedagoog bij het Dominiek Savio Instituut, Dienstencentrum Gid(t)s.
Dr. P. Prinzie
is universitair hoofddocent Pedagogiek, Universiteit Utrecht / coördinator Kennis- en Expertisecentrum, Dienstencentrum Gid(t)s. E-mail: p.prinzie@uu.nl.
Dit is een bewerking van Vrijmoeth, C., Monbaliu, E., Lagast, E., & Prinzie, P. (2012). Behavioral problems in children with motor and intellectual disabilities: Prevalence and associations with maladaptive personality and marital relationship.
Research in Developmental Disabilities, 33,
1027-1038.
Speciale dank gaat uit naar de deelnemende kinderen en hun ouders en de begeleiders van het Dominiek Savio Instituut voor de medewerking.
Deze studie werd deels ondersteund door een beurs van de Stichting Marguerite-Marie Delacroix.
Samenvatting
In deze studie is onderzocht hoe vaak gedragsproblemen voorkomen bij jeugdigen met een motorische en verstandelijke beperking. Daarnaast is de relatie met sekse, leeftijd, maladaptieve persoonlijkheidskenmerken en stress in de huwelijksrelatie nagegaan. Deelnemers waren 101 Vlaamse jeugdigen met een motorische en verstandelijke beperking. Ouders en begeleiders vulden vragenlijsten in over het gedrag en de persoonlijkheid van jeugdigen. Ouders vulden een vragenlijst in over huwelijksstress. Prevalenties voor totale gedragsproblemen varieerden van 8% tot 18% gebaseerd op ouder- en begeleiderrapportages. Volgens ouders vertoonden 27% van de jeugdigen angstproblemen. Oudere jeugdigen lieten minder gedragsproblemen zien. Maladaptieve persoonlijkheidskenmerken (lage Compulsiviteit, hoge Emotionele Instabiliteit en hoge Onwelwillendheid) en huwelijksstress waren positief geassocieerd met gedragsproblemen. Deze studie benadrukt de aanwezigheid van gedragsproblemen bij jeugdigen met een motorische en verstandelijke beperking en toont relaties aan met theoretisch relevante risicofactoren in het individu en in de onmiddellijke context. Aandachtspunten voor klinische interventies worden besproken.