26-04-2015 | Original Article | Uitgave 5/2015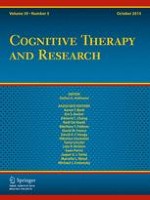 Facilitating Emotional Processing: An Experimental Induction of Psychotherapeutically Relevant Affective States
Tijdschrift:
Auteurs:

Kristina B. Rohde, Maria Stein, Antonio Pascual-Leone, Franz Caspar
Abstract
Psychotherapy research has shown that cognitive-affective meaning making is related to beneficial therapy outcomes. This study explores the underlying micro-processes by inducing specific cognitive-affective states and studying their immediate effects on emotional activation, the resolution of interpersonal grievances, and factors related to therapeutic progress, e.g., mastery experiences, clarification of meaning. Participants suffering from interpersonal grievances were randomly assigned to two conditions. A sentence completion task was employed to induce either the expression of emotional distress or cognitive-affective meaning making. Expressive writing was used to deepen processing. Findings of those participants adhering to the induction procedure (
n
= 85) showed no differences between conditions at baseline. During writing, participants in both conditions were equally emotionally activated. Directly after the writing task, participants in the meaning making condition (
n
= 50) reported less unresolved interpersonal grievances, and more mastery experiences, but, e.g., not more clarification, compared to those in the emotional expression condition (
n
= 35). Results suggest that engagement in specific states that promote meaning making of emotional experience facilitates emotional processing and is related to therapeutic benefit.