31-05-2021 | ORIGINAL PAPER | Uitgave 8/2021 Open Access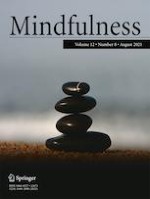 Exploring the Effects of Mindfulness-Based Childbirth and Parenting on Infant Social-Emotional Development
Tijdschrift:
Auteurs:

Gunilla Lönnberg, Maria Niemi, Björn Salomonsson, Richard Bränström, Eva Nissen, Wibke Jonas
Belangrijke opmerkingen
The original online version of this article was revised as the name of the author who has referred to this article was erroneously captured in both the in text citation as well as the reference list, the first name is listed instead of her last name.
Publisher's Note
Springer Nature remains neutral with regard to jurisdictional claims in published maps and institutional affiliations.
Abstract
Objective
Maternal stress and depression in pregnancy and early parenting are associated with decreased maternal sensitivity and infant social-emotional development impairments. This randomized controlled trial explored if a Mindfulness-Based Childbirth and Parenting Program (MBCP) is more beneficial than a Lamaze program for infant's social-emotional development. Infant social-emotional development was also explored in the light of maternal psychological states.
Methods
Pregnant women at risk of perinatal stress and depression were included and randomized to either MBCP or Lamaze. The Ages and Stages Questionnaire: Social-Emotional (ASQ:SE) regarding infant social-emotional development was filled out by the mothers (n = 88) 3 months postpartum. Data on mode of delivery, skin-to-skin care, and breastfeeding rates was collected from medical records and self-report questionnaires. The women also filled out self-report questionnaires: Perceived Stress Scale, Edinburgh Postpartum Depression Scale, Positive States of Mind, and Five Facets of Mindfulness Questionnaire, at baseline, postintervention, and 3 months postpartum.
Results
There was a significant difference in score on the infants' social-emotional development, suggesting that infants in the MBCP-study arm showed better social-emotional development compared with infants in the Lamaze-study arm (
p
 = .049
d
 = .407). At 3 months postpartum, 9% in the MBCP-arm compared with 29% in the Lamaze-arm (p = .02) scored above the EPDS cutoff 11/12. Furthermore, maternal positive states of mind at 3 months postpartum influenced the variance of ASQ:SE.
Conclusion
The study shows positive effects of MBCP influencing the mother-infant dyad, suggesting that the increase in maternal psychological well-being supports positive infant social-emotional development.
Trial Registration
NCT02441595