12-05-2017 | Uitgave 6/2017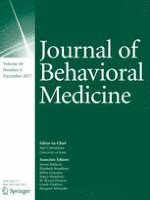 Delay discounting and parental monitoring in adolescents with poorly controlled type 1 diabetes
Tijdschrift:
Auteurs:

Amy Hughes Lansing, Catherine Stanger, Rebecca Crochiere, Ann Carracher, Alan Budney
Abstract
In a sample of adolescents with poorly controlled type 1 diabetes, this study examined if delay discounting, the extent to which individuals prefer immediate over delayed rewards, was associated with severity of non-adherence and poor glycemic control, and if parental monitoring of diabetes management moderated those associations. Sixty-one adolescents (
M
age
= 15.08 years, SD 1.43) with poorly controlled type 1 diabetes completed a delayed discounting task and an HbA1c blood test. Adherence was assessed via self-monitoring of blood glucose (SMBG) data from adolescents' glucometers. Parents completed a parental monitoring questionnaire. Greater delay discounting was associated with higher HbA1c, but not SMBG. Direct parent observation of diabetes tasks, but not indirect parental monitoring, moderated the link between greater delay discounting and higher HbA1c, with higher direct parent observation buffering the link between greater discounting and poorer glycemic control. Delay discounting may be a target for future interventions to improve HbA1c in youth with type 1 diabetes.