25-11-2015 | Uitgave 6/2016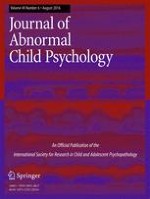 Cognitive Control Deficits in Shifting and Inhibition in Preschool Age Children are Associated with Increased Depression and Anxiety Over 7.5 Years of Development
Tijdschrift:
Auteurs:

Sarah J. Kertz, Andy C. Belden, Rebecca Tillman, Joan Luby
Abstract
Although depression and anxiety are common in youth (Costello et al.
2003
), factors that put children at risk for such symptoms are not well understood. The current study examined associations between early childhood cognitive control deficits and depression and anxiety over the course of development through school age. Participants were 188 children (at baseline
M
= 5.42 years,
SD
= 0.79 years) and their primary caregiver. Caregivers completed ratings of children's executive functioning at preschool age and measures of depression and anxiety severity over seven assessment waves (a period of approximately 7.5 years). Longitudinal multilevel linear models were used to examine the effect of attention shifting and inhibition deficits on depression and anxiety. Inhibition deficits at preschool were associated with significantly greater depression severity scores at each subsequent assessment wave (up until 7.5 years later). Inhibition deficits were associated with greater anxiety severity from 3.5 to 7.5 years later. Greater shifting deficits at preschool age were associated with greater depression severity up to 5.5 years later. Shifting deficits were also associated with significantly greater anxiety severity up to 3.5 years later. Importantly, these effects were significant even after accounting for the influence of other key predictors including assessment wave/time, gender, parental education, IQ, and symptom severity at preschool age, suggesting that effects are robust. Overall, findings indicate that cognitive control deficits are an early vulnerability factor for developing affective symptoms. Timely assessment and intervention may be beneficial as an early prevention strategy.