15-12-2015 | Uitgave 6/2016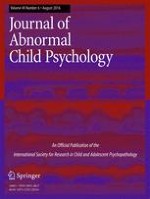 Permissive Parenting, Deviant Peer Affiliations, and Delinquent Behavior in Adolescence: the Moderating Role of Sympathetic Nervous System Reactivity
Tijdschrift:
Auteurs:

J. Benjamin Hinnant, Stephen A. Erath, Kelly M. Tu, Mona El-Sheikh
Abstract
The present study examined two measures of sympathetic nervous system (SNS) activity as moderators of the indirect path from permissive parenting to deviant peer affiliations to delinquency among a community sample of adolescents. Participants included 252 adolescents (
M
 = 15.79 years; 53 % boys; 66 % European American, 34 % African American). A multi-method design was employed to address the research questions. Two indicators of SNS reactivity, skin conductance level reactivity (SCLR) and cardiac pre-ejection period reactivity (PEPR) were examined. SNS activity was measured during a baseline period and a problem-solving task (star-tracing); reactivity was computed as the difference between the task and baseline periods. Adolescents reported on permissive parenting, deviant peer affiliations, externalizing behaviors, and substance use (alcohol, marijuana). Analyses revealed indirect effects between permissive parenting and delinquency via affiliation with deviant peers. Additionally, links between permissive parenting to affiliation with deviant peers and affiliation with deviant peers to delinquency was moderated by SNS reactivity. Less SNS reactivity (less PEPR and/or less SCLR) were risk factors for externalizing problems and alcohol use. Findings highlight the moderating role of SNS reactivity in parenting and peer pathways that may contribute to adolescent delinquency and point to possibilities of targeted interventions for vulnerable youth.