01-04-2014 | Review Article | Uitgave 2/2014 Open Access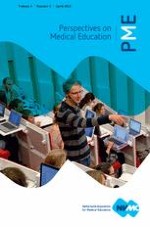 Bedside teaching in medical education: a literature review
Tijdschrift:
Auteurs:

Max Peters, Olle ten Cate
Introduction
In this literature overview we have attempted to evaluate the reasons for the decline in bedside teaching and to depict current evidence in the discussion on the effects of bedside teaching on learning, including the views of the parties involved and possible directions for the future.
Methods
Our initial question focused on what bedside teaching can offer to the acquisition of durable clinical skills in addition to other teaching modalities. PubMed, Embase and the Cochrane library were searched by one of the authors for articles concerning bedside teaching and the learning of clinical skills (Table
1
). Synonyms were used for the domain "medical students/residents/teachers" and the determinant "bedside teaching" Table
2
.
Table 2
Search syntax for PubMed, Embase and Cochrane
| Database | Syntax (08-01-2013) | Hits |
| --- | --- | --- |
| PubMed (TIAB) | (Medical students OR Students OR Residents OR Interns OR Medical residents OR Medical interns OR Medical teachers OR Medical tutors) AND (Bedside teaching OR Bed-side teaching OR teaching at the bedside OR bedside education OR bedside-education OR bedside demonstration OR bedside training) | 584 |
| Embase TI, AB | The above-mentioned search: all search terms in title and abstract | 7 |
| Cochrane AB, TI, KW | The above-mentioned search: all search terms in title and abstract | 34 |
| Total | | 625 |
Relevant articles were screened with regard to title and abstract and if necessary in full text. Inclusion and exclusion criteria were applied to obtain articles regarding the evidence of learning clinical skills, reasons for the decline in bedside teaching, future directions and attitudes/opinions of persons involved (Fig.
1
). Both authors reviewed the resulting abstracts and concluded that a total of 29 articles contained useful information related to the above-mentioned subjects regarding bedside teaching [
3
,
5
–
8
,
27
–
50
]. All articles were available in full text (either digitally or in hard copy in the University Utrecht library). No relevant related articles were found in the Web of Science or in the related articles in PubMed or Embase.
×
Because contemporary evidence regarding the added value of bedside teaching is relatively scarce and most articles were of a descriptive nature, methodological inclusion and exclusion criteria were not broadly applied (Fig.
1
).
Results
Discussion
The discussed studies show a diverse representation regarding the added value of bedside teaching. Regarding the study by Favrat et al. [
30
]: although the authors were aware of the limitations of the study—especially the lack of a control group without the teaching intervention—it still shows a significant increase in correctly diagnosing patients on the basis of increased clinical experience. The relative increase is impressive (66 %), especially when considering the relatively low scores of the cardiologists involved in the study. The study does not speculate in which way these results could be extrapolated to other medical fields. It could be theorized that regarding the difficulty of cardiac auscultation in correctly diagnosing disorders, the training programme would be even more valuable for other (less difficult) areas of history taking and physical examination.
The same could be said for the study by Heckman et al. [
35
]. Although the absolute increase in test scores might once again seem little, it should be noted that the scores at the beginning were high (on average 75 % in both groups), which increases the difficulty of improvement. Especially the increase of 16 % in the intervention group is remarkable (they scored an average of 91 % after the elective). It could be speculated that with a lower starting score, the increase would have been even more substantial. A limitation was that the two groups were not randomized.
Regarding the type of bedside teaching provided, the study by Smith et al. [
44
] shows us a marginal (but significant) increase in key clinical findings when residents are working together in the diagnostic process compared with a control group. This marginal increase could be explained by the difficulty of the examined procedures (again cardiac murmurs) and the relatively intense and short teaching schedule (32 h shifts). A more structured, longer approach with less difficult parts of the physical examination might once again yield even better results.
The study by Sverdrup et al. [
45
] randomized two groups of students and found no difference in diagnostic skills in the end. This study has a lot of limitations, though, as the training course was short (only 4 h instead of the extended 5-month weekly training course in the study by Favrat et al.), the study population consisted of inexperienced third-year medical students and also no control group was used. Therefore, no conclusion can be made about the additional value of any of the two interventions.
A limitation of this review is the limited amount of evidence that is found in favour of bedside teaching. Randomized studies with the use of control groups are scarce in the already limited literature that exists on the subject. This is not surprising in a field which requires great efforts for proper investigation.
Most arguments regarding the subject are therefore based on rational assumptions and personal preferences, usually in favour of bedside teaching. But even though the evidence is limited, two empirical studies have provided relevant evidence for a beneficial effect of bedside teaching (in cardiology and neurology) [
30
,
35
]. General history taking and physical examination skills are likely to show even more improvement if researched properly.
Furthermore, there seem to be few arguments
against
bedside teaching. A changing hospital and learning environment together with a greater technological reliance and other practical obstacles are frequently argued in the literature. But they are rather impediments to the bedside teaching modality, not real arguments directed at the rationale of bedside teaching as a possible successful educational option. Most authors share the opinion that these impediments do not outweigh the arguments and evidence in favour of bedside teaching and should therefore be adequately addressed. Only in this way can bedside teaching remain a valuable clinical teaching strategy.
Conclusion
Bedside teaching seems to be gradually disappearing from medical curricula. As sophisticated diagnostic methods have reduced the need for physical diagnosis at the bedside, the
teaching
at the bedside runs the risk of being like a baby thrown out with the bathwater. Various reasons are given for this decline, including a changing hospital environment with increasing time constraints and discomfort on the part of the physicians. Bedside teaching is rationally necessary in learning certain clinical skills and evidence supporting the value of bedside teaching is found for different medical specialities (cardiology and neurology). Patients usually regard bedside teaching as enjoyable and not as a burden. Students, interns, residents and clinical teachers all generally appear to favour bedside teaching for the integration and learning of certain important clinical skills. From the literature, it follows that certain obstacles still remain, or even increase in the present day learning climate. Considering that bedside teaching is still valued by many involved in medical education, ways to overcome these obstacles should be found.
Essentials
Bedside teaching is declining in the medical curriculum. Reasons include an increased patient turnover in hospitals, the availability of high-quality diagnostic procedures other than physical diagnosis, and practical and personal impediments.

Bedside teaching has been found to improve certain clinical skills in students and residents.

Bedside teaching is still valued by patients, as well as students, residents and clinical teachers as a very useful teaching method.

Because of its value for students/residents, patients and medical teachers, obstacles to bedside teaching should be overcome. Solutions vary from practical guidelines to using residents and interns as bedside teachers.
Conflict of interest
None.
Open Access
This article is distributed under the terms of the Creative Commons Attribution License which permits any use, distribution, and reproduction in any medium, provided the original author(s) and the source are credited.