Gepubliceerd in: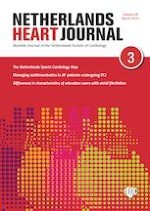 Open Access 10-02-2021 | Editor's Comment
Antithrombotic treatment in atrial fibrillation patients needing percutaneous coronary intervention
Gepubliceerd in: Netherlands Heart Journal | Uitgave 3/2021
While the authors concluded that there was heterogeneity in the management strategy among the interventional cardiologists, reflecting the guidelines, there is another way to look at their interesting data: there are areas with certainty and agreement, where this is needed, and there are areas with disagreement and heterogeneity, where this is appropriate. An example of the first, and in line with the guidelines, was that 96% all respondents would start antiplatelet therapy as soon as possible after admission of the AF patient with NSTEMI, of which 70% would start dual antiplatelet therapy (consisting of acetylsalicylic acid and clopidogrel) and 23% would initiate monotherapy (prasugrel, ticagrelor or clopidogrel). Along the same line, at discharge, 70% would start triple antithrombotic therapy (oral anticoagulant plus two antiplatelet agents), whereas only 9% would start this treatment in patients with a high bleeding risk.
From this timely survey, it is clear that new and unresolved territories can and should be explored, ideally in a randomised fashion. Among these is the value of different decision rules for ischaemia and bleeding and the proper heparin dose during PCI for patients taking NOACs. Finally, even in this evidence-based era—with its multiple guidelines, many of which are already outdated the moment they appear because of new studies—there is still room for patient-tailored, balanced decision-making. In that case, the adage 'In dubio abstine' is valid as an aid in reducing bleeding, although clinicians should be aware that 'too little' antithrombotic treatment may lead to 'too much' ischaemia and thrombosis.