07-01-2021 | Original Article | Uitgave 3/2021 Open Access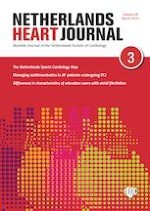 Characteristics of patients with atrial fibrillation prescribed edoxaban in Belgium and the Netherlands: insights from the ETNA-AF-Europe study
Tijdschrift:
Auteurs:

T. A. C. de Vries, M. E. W. Hemels, F. Cools, H. J. G. M. Crijns, L. Yperzeele, P. Vanacker, I. Blankoff, P. Lancellotti, G. H. Mairesse, A. de Veer, R. Casado Arroyo, E. Catez, M. de Pauw, T. Vanassche, C. de Asmundis, P. Kirchhof, R. De Caterina, J. R. de Groot, the ETNA-AF-Europe principal investigators from Belgium and the Netherlands*
Belangrijke opmerkingen
Electronic supplementary material
*See supplementary material for the principal investigators of ETNA-AF-Europe from Belgium and the Netherlands.
Abstract
Background
Studies on the use of non-vitamin K antagonist oral anticoagulants in unselected patients with atrial fibrillation (AF) show that clinical characteristics and dosing practices differ per region, but lack data on edoxaban.
Methods
With data from Edoxaban Treatment in routiNe clinical prActice for patients with AF in Europe (ETNA-AF-Europe), a large prospective observational study, we compared clinical characteristics (including the dose reduction criteria for edoxaban: creatinine clearance 15–50 ml/min, weight ≤60 kg, and/or use of strong p‑glycoprotein inhibitors) of patients from Belgium and the Netherlands (BeNe) with those from other European countries (OEC).
Results
Of all 13,639 patients in ETNA-AF-Europe, 2579 were from BeNe. BeNe patients were younger than OEC patients (mean age: 72.3 vs 73.9 years), and had lower CHA2DS2-VASc (mean: 2.8 vs 3.2) and HAS-BLED scores (mean: 2.4 vs 2.6). Patients from BeNe less often had hypertension (61.6% vs 80.4%), and/or diabetes mellitus (17.3% vs 23.1%) than patients from OEC. Moreover, relatively fewer patients in BeNe were prescribed the reduced dose of 30 mg edoxaban (14.8%) than in OEC (25.4%). Overall, edoxaban was dosed according to label in 83.1% of patients. Yet, 30 mg edoxaban was prescribed in the absence of any dose reduction criteria in 36.9% of 30 mg users (5.5% of all patients) in BeNe compared with 35.5% (9.0% of all patients) in OEC.
Conclusion
There were several notable differences between BeNe and OEC regarding clinical characteristics and dosing practices in patients prescribed edoxaban, which are relevant for the local implementation of dose evaluation and optimisation.
Trial registration
NCT02944019; Date of registration 24 October 2016