07-01-2021 | Point of View | Uitgave 3/2021 Open Access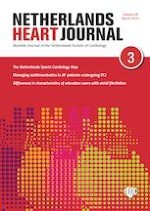 Diagnostic approach in patients with angina and no obstructive coronary artery disease: emphasising the role of the coronary function test
Tijdschrift:
Auteurs:

R. E. Konst, P. Damman, D. Pellegrini, N. van Royen, A. H. E. M. Maas, S. E. Elias-Smale
Belangrijke opmerkingen
Supplementary Information
Abstract
Background
Many patients with angina do not have obstructive coronary artery disease (CAD), also referred to as "Ischaemia with No Obstructive Coronary Arteries" (INOCA). Coronary vascular dysfunction is the underlying cause of this ischaemic heart disease in as much as 59–89% of these patients, including the endotypes of coronary microvascular dysfunction and epicardial coronary vasospasm. Currently, a coronary function test (CFT) is the only comprehensive diagnostic modality to evaluate all endotypes of coronary vascular dysfunction in patients with INOCA.
Objective
In this paper we discuss the relevance of performing a CFT, provide considerations for patient selection, and present an overview of the procedure and its safety.
Methods
We reviewed the latest published data, guidelines and consensus documents, combined with a discussion of novel original data, to present this point of view.
Results
The use of a CFT could lead to a more accurate and timely diagnosis of vascular dysfunction, identifies patients at risk for cardiovascular events, and enables stratified treatment which improves symptoms and quality of life. Current guidelines recommend considering a CFT in patients with INOCA and persistent symptoms. The safety of the procedure is comparable to that of a regular coronary angiography with physiological measurements. Non-invasive alternatives have limited diagnostic accuracy for the identification of coronary vascular dysfunction in patients with INOCA, and a regular coronary angiography and/or coronary computed tomography scan cannot establish the diagnosis.
Conclusions
A complete CFT, including acetylcholine and adenosine tests, should be considered in patients with INOCA.