01-10-2012 | Uitgave 7/2012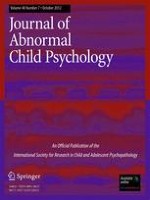 Anger and Irritability Symptoms among Youth with ODD: Cross-Informant Versus Source-Exclusive Syndromes
Tijdschrift:
Auteurs:

Kenneth D. Gadow, Deborah A. G. Drabick
Belangrijke opmerkingen
This research was supported in part by NIMH 1K01MH073717-01A2 awarded to Deborah A. G. Drabick.
Abstract
We examined differences in co-occurring psychological symptoms and background characteristics among clinically referred youth with oppositional defiant disorder (ODD) with and without anger/irritability symptoms (AIS) according to either parent or teacher (source-exclusive) and both informants (cross-informant), youth with noncompliant symptoms (NS) of ODD, and non-ODD clinic controls. Parents and teachers evaluated 1127 youth (ages 6–18) with a
DSM-IV
-referenced rating scale to assess ODD and co-occurring psychological symptoms. Parents also completed a background questionnaire (demographic, developmental, treatment, relationship, and academic characteristics) and teachers rated school functioning. Source-exclusive AIS groups were associated with different clinical features, and there was some evidence that cross-informant youth had more mental health concerns than source-exclusive groups. Findings varied to some extent among older (12–18 years) versus younger (6–11 years) youth. In general, the NS group (youth without AIS) was the most similar to clinic controls. AIS and NS are likely candidates for component phenotypes in ODD and continued research into their pathogenesis may have important implications for nosology, etiology, and intervention.