01-10-2012 | Uitgave 7/2012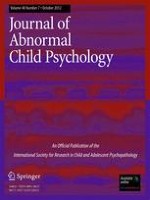 Etiological Distinctions between Aggressive and Non-aggressive Antisocial Behavior: Results from a Nuclear Twin Family Model
Tijdschrift:
Auteurs:

S. Alexandra Burt, Kelly L. Klump
Abstract
A recent meta-analysis of 103 studies Burt (Clinical Psychology Review, 29:163–178,
2009a
) highlighted the presence of etiological distinctions between aggressive (AGG) and non-aggressive rule-breaking (RB) dimensions of antisocial behavior, such that AGG was more heritable than was RB, whereas RB was more influenced by the shared environment. Unfortunately, behavioral genetic research on antisocial behavior to date (and thus, the research upon which the meta-analysis was based) has relied almost exclusively on the classical twin model. This reliance is problematic, as the strict assumptions that undergird this model (e.g., shared environmental and dominant genetic influences are not present simultaneously; there is no assortative mating) can have significant consequences on heritability estimates when they are violated. The nuclear twin family model, by contrast, allows researchers to relax and statistically evaluate many of the assumptions of the classical twin design by incorporating parental self-report data along with the more standard twin data. The goal of the current study was thus to evaluate whether prior findings of etiological distinctions between AGG and RB persisted when using the nuclear twin family model. We examined a sample of 312 child twin families from the Michigan State University Twin Registry. Results strongly supported prior findings of etiological distinctions between AGG and RB, such that broad genetic influences were observed to be particularly important to AGG whereas shared environmental influences contributed only to RB. Nevertheless, the current findings also implied that additive genetic influences on antisocial behavior may be overestimated when using the classical twin design.